What Is Home Health?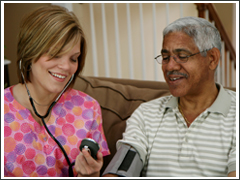 Home Health provides for continued medical treatment in a comfortable, familiar environment – your home. We believe patients recover faster and gain greater independence with self-care in the comfort of their own home and surrounded by family and friends. We believe patients have the right to be involved in their own treatment plan and support the patient's right to make informed choices about their care.
Companion Home Health provides a variety of professional medical services in your home that are focused on:
Recovery following an acute illness or surgery;
Assisting patients and their caregivers to manage chronic conditions, such as strokes, heart disease and diabetes;
Enabling patients to remain at home safely as long as possible.
Companion Home Health provides and coordinates the care and/or therapy your physician orders. In support of your physician's orders, and with your input, our staff develops a written individualized plan for your care, tailored to your lifestyle, which includes the services you will receive to improve and/or maintain your physical, mental, and social well being – at home. Your physician maintains oversight of the care plan and is consulted regularly regarding your condition.
Our professional staff includes:
Nurses (RNs and LPN's)

— who provide skilled medical care, including administering medications, monitoring vital signs, dressing wounds, and teaching patients and families about medications, disease management, and home equipment.

Therapists (Physical, Occupational and Speech)

— who work with patients to restore or maintain their motor, speech and cognitive skills.

Homecare Aides

— who provide personal services such as bathing, dressing, toileting, making meals, or light cleaning.

Medical Social Workers

— who assist patients and families with other available resources to help patients remain in their own home, such as obtaining Meals on Wheels, housekeeping or transportation assistance, financial resources to help cover costs of medications and equipment, as well as counseling and short term or long range planning.
Companion Home Health staff will make intermittent scheduled visits to assess the patient and provide care and services. We also offer an ON CALL program, providing access to a nurse 24 hours a day/7 days a week. Now that's peace of mind!
You May Need Home Health Services…
If you have had a recent discharge from a hospital, skilled nursing, or rehab unit and require ongoing skilled services in the home.
If you require part-time nursing care, physical, occupational, or speech therapy.
If you are medically restricted to home or are unable to leave the home without assistance and need skilled medical services, such as wound care, medication administration or other procedures,
If you require education and supervision regarding new procedures, medications, and disease management.
Companion Home Health's experienced and qualified staff focuses on education and early intervention strategies to reduce emergency room visits and hospitalizations.
Comprehensive Services
Diabetes Management
Disease Management, such as CHF, COPD, Strokes
IV Infusion Therapy
Medication Management
Nutrition Therapy
Occupational Therapy
Pain Management
Pediatric Support
Physical Therapy
Pre/Post-Operative Care
Rehabilitation Services
Speech & Language Therapy
Telemonitoring
Wound/Ostomy Care
Staff Certified in:
Wound Vacs
Wound Nurse
IV Therapy
Pediatrics
Home Care Needs
Companion Home Health may also coordinate your other home care needs such as:
Home medical equipment
Infusion services
Mobile meals or other available community-based services
Medical social services
Click here to learn more about our Telemonitor and MedPartner programs. These special programs enable our team to provide superior home care.
Payment Options
Medicaid

We are a certified Medicaid provider and accept Medicaid patients.

Medicare

We are Medicare certified and accept Medicare patients. Medicare pays 100% of our services for beneficiaries that meet the Medicare Home Health Benefit coverage requirements.

Private Pay

Private Insurance

Many private insurance companies have home health benefits. Coverage and co-payments vary. A Companion Representative can determine your individual coverage requirements and benefits.

Workers Compensation